In this tech era, you need to get smarter and smarter using tech every day. Still these days many people spend too much time searching on Facebook, Meetup, Public Websites, Eventbrite, etc. to check if anything interesting is out there. Using Google, iPhone and your calendars to find out if any of your friends are free out there waiting to have someone to enjoy with some of their spare time, now is becoming old fashion. Because iFun has introduced a new AI that can take control of everything via just one app.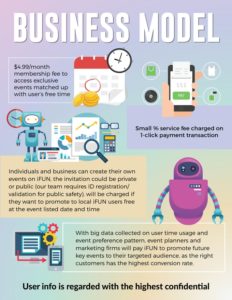 What is iFun?
iFun, as the name suggests, is a fun app. This is an app that is All-in-one APP for Calendar+Event+Chat+Payment, partner with Eventbrite & Ticketmaster & NYU Startup School.
The functionalities of iFun contain:
an artificial intelligence which can control multifunctional lifestyle system
an event organizer

payment app

calendar

online chat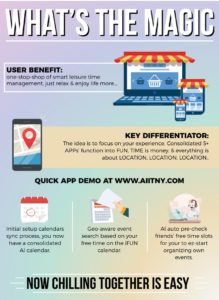 Now, you don't have to try, search and look for friends who have spare time to join you. Your app will allow you to connect with your real friends and family who are free at the same time you are, and not digital friends; this app connects you with your real friends. So, now feel how wonderful it would be to be with your friend and family when you are having some time to spare, because these days, we all are too busy, and the spare time we get, we don't really know when are our friends and family free, so we can't meet and spend time with each other.
Another plus point is that the iFun app has a secure payment method. You aren't going to pay for the whole expense with your friend alone, you can share with them, and your friends can make the part of their payment upfront.
There are many other functions of the iFun app; you can know more if you can please visit their website by clicking over the link provided above.