Planning to develop your website? It is really a good thought. But you will need to consider many factors such as – domain, design, development, hosting, etc.
Your web developer will help you in the design and development of your website. But after that you will need to select a web host for hosting your website. There are numerous web hosting services available on the internet which include shared hosting, VPS hosting, WordPress hosting, dedicated server, cloud hosting, etc. Hence, after doing a complete research you might get stuck – whether you should select shared hosting or other type of hosting for your start-up website.
Basically, a start-up website always requires a hosting plan that is affordable as well as offers value for money. So, many start-up websites go for cheap shared hosting as it offers enough resources at a budget-friendly price.
Shared hosting
Shared hosting, the name itself says that it relates to sharing. You can take an example of a physical apartment where you need to share the resources with others such as lift, parking space, pool, etc. Similarly, in shared hosting, the server resources are shared with other account users hosted on the same server. These resources comprise of bandwidth, disk storage, etc. Even though you need to share the server resources, you get a separate account on the server that is allotted with these set of resources.  It is of two types depending on the OS – Linux shared hosting and Windows shared hosting.
Shared Hosting is Best for:
Start-ups
Small-medium enterprises
Blog/ personal websites
Mid-e-commerce sites (up to 500 visitors)
Being the most basic type of hosting among all the web hosting services, shared hosting is a highly popular option for start-ups and small businesses. It offers you a cheap hosting service option until your business expands.
Benefits of shared hosting
Cost effective: As compared to other hosting plans, the shared hosting plans are much cheaper.
No technical skills required: Since the shared server is managed by your web host, you don't need to have any special technical skills for hosting your site.
Ease of use: You just have to launch your website as the server is set up by your hosting provider.
Choosing the best hosting provider?
It is really important to select the best hosting provider. It might happen that your webpage becomes the victim, if you select a wrong web hosting provider. This might lead to drop in your business revenue as well as your website search engine rankings.
You will find several web hosting providers that provide reliable and robust hosting at affordable prices. But it is important to ensure that your website is hosted on a secure and state of the art infrastructure. Or you may pick a web hosting provider that give you the uptime guarantee of 99.95%.
Are looking for a genuine MilesWeb review? You have landed at the right place. There are many mixed reviews about MilesWeb on the web and thus, I thought of giving a true review to our readers. This unbiased review showcases each and every detail about MilesWeb and in case you are already their customer, you can share your experience with them in the comments below.
Short Intro to MilesWeb
Incorporated in 2012, MilesWeb is situated in Nashik, Maharashtra and is a leading web host of India. They offer web hosting service which is best for all types of businesses and that too at affordable prices. They also offer reseller web hosting plans for the individuals or web developers who want to start their own hosting business. As per the stats, MilesWeb serves 1 million users in India and overseas. It indicates that they are growing rapidly. In a short span of time, they have gained a strong number of customers by offering quality service to them. They rank first in India for providing a free domain with their hosting plans. Their team is expert with great experience and knowledge about web hosting industry. This ultimately gives the best experience to their clients while solving their issue in a short time.
MilesWeb Shared Hosting Plans
MilesWeb shared hosting plans are cheap and start just at Rs.60 per month. Their starter plan – "Lite" offers one host website, 1 GB SSD storage, 10 GB bandwidth, free SSL certificate, 2 email accounts, 1 MySQL database, and cPanel and Softaculous.
The Deluxe plan of MilesWeb shared hosting starts at Rs.210/mo and offers 3 host websites, 5 GB SSD storage, 50 GB bandwidth, free SSL certificate, 10 email accounts, 5 MySQL database, and cPanel and Softaculous.
The Ultimate plan of MilesWeb shared hosting starts at Rs.252/mo and offers 5 host websites, 10 GB SSD storage, 100 GB bandwidth, free SSL certificate, 20 email accounts, 10 MySQL database, and cPanel and Softaculous.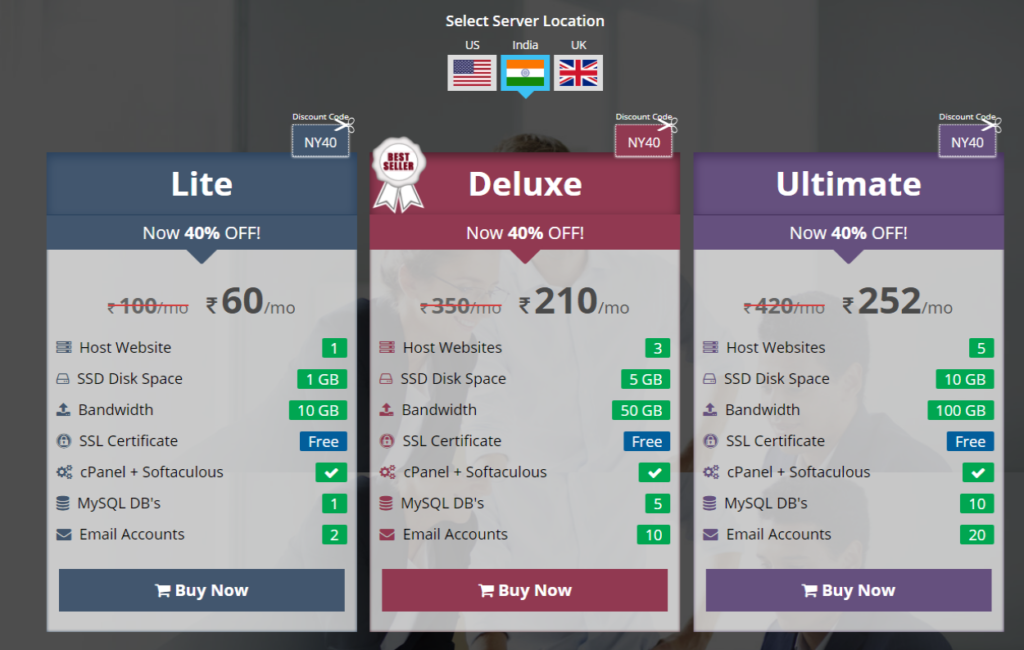 Features of Shared Web Hosting
Free SSL Certificate
They offer SSL certificate with their shared web hosting plan. They make sure that there is a secure communication between you and your visitor's browser. It is safe to accept the debit/credit cards on your website. All the data on your website which is exchanged between you and your consumer is encrypted with the SSL certificate. It also helps to improve your website ranking in search engines.
Free Site Builder
It is very easy to create your own professional website with their free site builder tool. You won't need to hire a designer or a developer to build your website. Just drag and drop your content and images in a template that you want for building your desired website. You get several templates from which you can choose one for your website.
Pure SSD storage
It's a fact that a slow website disappoints your customers. Therefore, the cheap shared hosting plan offers a SSD drive. It uses less energy and offers faster storage as compared to traditional HDDs. This improves the page browsing experience with less load time. With the faster loading pages, the overall performance of your site increases, leading to more business.
cPanel Control Panel
You can administer every aspect of your website from a web-based interface offered in Linux shared hosting. It helps you to manage files, databases, emails, domain(s) and a lot more with cPanel in a very easy way.
One-click Install
You get inbuilt Softaculous auto-installer which comprises of a one click install solution. You can install over 300 applications and scripts such as WordPress, Magento, Drupal, Joomla and many other well-known scripts.
Datacenter Choice
The closer your server location, the better you reach your target audience. So, MilesWeb allows you to select the server location of your choice from India, UK and US.
Free Website Migration
You can migrate your website from the existing hosting provider to MilesWeb server without any hassle. The team responsibly migrates your website to MilesWeb server without any data loss.
Easy Upgrade
You can easily upgrade to other powerful hosting options when your site grows. They use advanced technology that makes the upgrade process effortless in few steps.
Three Strong Pillars of MilesWeb
They assure to provide an uptime of 99.95% with their Tier-3 and Tier-4 datacenters.
They offer great customer support and you can reach them via live chat, email and phone.
If you aren't happy with their service, you can easily claim for refund within 30 days of the service purchase.
Conclusion- Is Best and Cheap Possible?
Of course it is!
After reading the above review, it makes a clear view that MilesWeb offers incredibly best features and its prices are also easy to pay for all. Additionally, the company is famous for its pricing and technical support.
I would surely recommend MilesWeb. So, don't give a second thought.
Happy hosting!