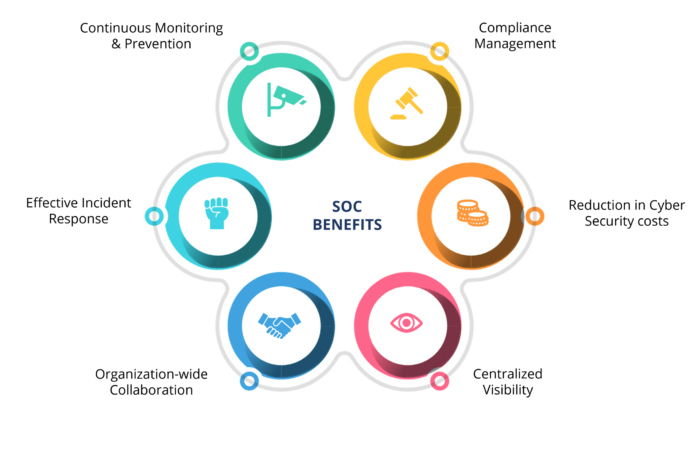 Is it now time to learn the skill before the danger changes once again to launch new unforeseen classes of highly devastating strikes? Detecting complex attacks and then responding to them demand comparably sophisticated capabilities.
Security operations Center has become more and more necessary as the need for networking systems across diverse enterprises grows. To keep the network operating properly, it is crucial to have SOC services or a Security Operation Centre. Such a system will make sure that the network pipes are not congested and that information and data may move between service providers, customers, and services by traveling to and from network devices as needed.
Understanding SOC services
If and when a data breach affects your company, a SOC (Security Operation Centre) is a team of engineers with the experience and knowledge to know what to look for. Statistics show that it usually takes more than 200 days for you to become aware of a breach. This allows fraudsters to remain in your environment unnoticed for far too long, increasing the risk of all kinds of issues, such as data leakage.
What you cannot see cannot be stopped. A SOC that has the knowledge and visibility into your environment can reduce the time from more than 200 days to only a few minutes. This provides you and your business an opportunity to battle cybercriminals and stay one step ahead of them.
Why invest in SOC services
A SOC is essential to an organization's capacity to continue operating, generate revenue, and stay in compliance with relevant laws given the increased danger of cyberattacks. It can be costly and time-consuming to build an internal SOC that can achieve a high degree of security maturity. Due to this, a lot of businesses are thinking about outsourcing their security needs, such SOC-as-a-Service offers.
How do SOC services operate?
To assess the threat that could exist to the network infrastructure in the future, the Security Operations Centre (SOC) services often examine the results that they receive from security devices. Any SOC supplier will make sure the clients receive adaptable, tailored solutions that are both wise and affordable.
The benefits of SOC services
The system is monitored and supported by highly skilled and qualified security experts around-the-clock. All possible concerns, including any unexpected network system behavior, are assessed continuously.
System escalation and integration of IT workflow
The users are granted full access to the surroundings and event data.
Data evaluation
To further assist the clients, a perpetual upkeep and repair module is in operation.
To conclude
With the top organization's NOC and SOC services, your company may have total security with only one phone call.