We can all agree that digital marketing is one of the most affordable ways to reach more people, leads, prospects, and customers.
However, the main goal is to reach organic visitors to your official website, which is why you should think about search engine optimization or SEO.
It is one of the most effective ways to ensure your online presence and generate more significant revenue than before.
Therefore, you can choose two solutions for search engine optimization: you can do it yourself or find a third-party agency to help you out with the process.
Owning a small business means you will have a limited budget for marketing, which is why most owners choose to handle everything by themselves.
However, it is a time-consuming process where you must learn each step along the way, which can be a problem in the long run.
It is vital to check here to learn more about search engine optimization.
Instead of doing it yourself, the best approach you can take is outsourcing SEO service by finding a professional marketing agency to handle your campaign and strategy.
The main difference between outsourcing and DIY SEO is that you will require more money for an agency, but you will also get more efficient results in the long run.
It would be best to remember that outsourcing is much more reliable because you will have a professional at your disposal.
Even if you have enough optimization knowledge, it is vital to remember that each industry has specific rules and regulations to achieve positive results.
Still, the choice depends on your needs, which is why we cannot state the best course of action. Both options come with specific advantages and disadvantages. Therefore, you should decide based on your objectives and goals.
In the further article, we wish to present different pros and cons of each option, which will help you make up your mind.
Let us start from the beginning.
DIY SEO
Advantages
Affordable Price Tag – You should know that business owners tend to study search engine optimization with the idea of saving money in the long run. This is especially important if you have a limited budget, which is why you should think about DIY optimization.
Understand Optimization in Real-Time – Even though the basics of search engine optimization are complicated, as soon as you deal with it and learn, you will understand that optimization is a straightforward process. Of course, it is time-consuming, which may affect your primary goals, but you will realize the benefits of digital marketing and reaching organic visitors.
Disadvantages
Time-Consuming – As mentioned above, the worst thing about search engine optimization is responsibilities that will consume your time in the long run. At first, you should learn how to do it yourself and the fundamentals, which can be problematic and exhausting. Afterward, you will have to optimize the technicalities of your official website without anyone guiding you throughout the process. Therefore, having an agency by your side is a better option, and you will not make a big mistake along the way.
Slow Learning Curve – Most business owners choose SEO agency because of overall experience while making strategies. You should know that fundamentals are one thing, but keeping with the latest changes and using more advanced techniques is a challenging endeavor, which will set you away from your primary job.
Outsourcing SEO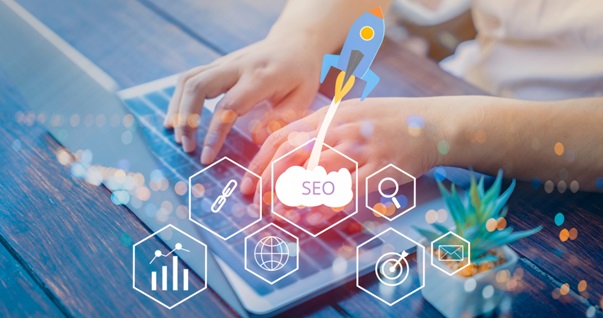 Advantages
More Efficient and Faster Results – Compared with DIY search engine optimization, when you decide to find an SEO company to help you out, you will get everything on time. Most of them come with teams of people, which means they will divide tasks to ensure quality results and efficiency. Therefore, if you wish to achieve the goal on time, you should outsource the optimization campaign to a particular marketing agency. As soon as you get help from a professional agency, it is more likely that your campaign will be successful than DIY. At the same time, you will not have to deal with tedious tasks by yourself, which is another crucial consideration to remember.
Handle Your Primary Tasks – Creating an overall digital marketing campaign is not just about optimization. It is vital to take advantage of other aspects of digital marketing, including content and social media promotion. Therefore, when you decide to outsource a marketing agency, you will get the freedom to focus on specific tasks such as improving your services and products. In contrast, others will think about boosting your business based on your preferences. You will have a chance to monitor an entire campaign and evaluate results, which will help you create more effective campaigns in the future.
Disadvantages
More Expensive Than DIY – The main reason business owners tend to neglect marketing companies is outsourcing comes with a cost. Generally, you can find agencies that will work per-project basis or based on a specific agreement you create, which is why you should spare a budget just for them. Of course, DIY is cheaper, but you will get the same value if you consider your time expensive. That is why you should create a budget plan before you find a service you need. The prices of services should fit your budget options, which you can handle by finding an affordable service.
You Will Not Get a Guarantee – It is better to find an agency to help you out with the process, but you should remember that it does not have a specific guarantee like other services. Since the efficiency depends on the strategy a particular agency decides to implement, that does not mean you will rank better on the search engine results page. Still, the chances are higher than DIY optimization, which is an essential consideration to remember.
Final Word
As you can see from everything mentioned above, outsourcing search engine optimization is a better option. Of course, a decision depends on numerous factors such as budget, needs, and goals.
Besides, you should consider your skills and willingness to learn before you make up your mind. Still, you may consult with a few agencies, which will help you determine the best course of action.